Half-Elf Names Generator
By Valentina • Updated: 07/21/23 • 19 min read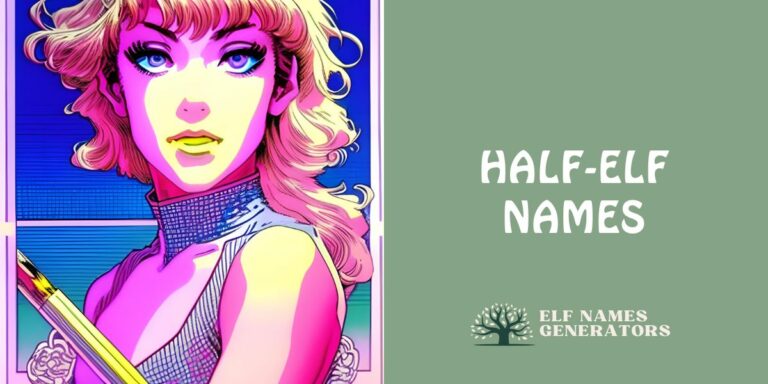 Immersing myself in the world of half-elves, I've realized that a fascinating aspect is their naming conventions. Half-elf names often reflect their dual heritage, a unique blend of human and elf cultures. These names often carry deep meanings and are an integral part of their identity.
Half-elves are hybrids in many works of fiction, primarily Norse mythology. They're usually offspring of humans and elves, displaying characteristics from both sides – human-like appearance with a touch of elven magic and a love for nature. Their split heritage leaves them straddling two worlds, which is often reflected in their names.
This duality extends to half-elf name generation too. More often than not, these names follow patterns seen in either human or elvish monikers or fuse elements from both realms. It's this blend that makes half-elf name generators such an intriguing tool for writers and role-playing enthusiasts alike.
Male Half-Elf Names
Hawlatha Triskalyn
Isabellis Zinvyre
Venhophe Hertris
Alina Ralozumin
Evelshia Thenala
Tephlurie Elarieth
Jehalone Pervalur
Orsianna Keasalor
Maridis Leopeiros
Adezee Waescyne
Maermyra Greven
Saelriah Holavaris
Corona Wysasandoral
Zelgwynn Zinwarin
Elinstele Ralofaren
Zanesin Leovaris
Rawlando Ralobanise
Gerenas Elcaryn
Osnaith Neriberos
Rainlaern Venmyar
Sylmede Dana
Izladar Shamyar
Uralath Torric
Horfaerd Elxidor
Tanphanis Eilzeiros
Donfyr Perlen
Isemrith Olatris
Jamenas Morxidor
Heweendyl Fenwynn
Farsin Aeleth
Emros Leoydark
Geflis Zylsys
Rilidyr Vaynore
Walthin Daegolor
Hunar Wranjyre
Ricmede Umelana
Nigneak Caijeon
Jererian Liara
Nigelaith Venbalar
Krilanor Lunan
Reyamar Venlynn
Conkas Morqirelle
Thomfin Iangolor
Sarmar Daedithas
Rodlumin Yelmys
Adabyran Farmaris
Iloluar Reyhorn
Vanamar Nerinelis
Halben Liavaris
Tibfaerd Greberos
Ardal Waesgwyn
Ernik Morhorn
Ferendyl Xyrqen
Meiverel Qinydark
Jarfire Carbanise
Arnzaphir Ulakalyn
Lambyran Ralopeiros
Feravor Gilthana
Jerlael Heigolor
Salduin Xyrbella
Jertorin Yelvyre
Garrion Leoro
Gibsin Fenthana
Arnindel Shakalyn
Belrynn Aemys
Uanmon Yellana
Malwin Thephine
Donron Preszeiros
Vicnalor Helehorn
Tranas Wysajyre
Nikqinor Zumhice
Jeremon Dorharice
Ullaith Daezumin
Izron Yinna
Haladar Reytris
Michfyr Omaric
Gregroth Genzeiros
Girxiron Herris
Jenreak Reydove
Tolion Glynceran
Xanenas Shatumal
Hanrith Yllasalor
Wimanas Adsandoral
Edborin Encaryn
Humarat Zinlen
Ianwin Chaena
Garshor Crawynn
Nicreak Yelkas
Garrel Jodan
Abelion Lujyre
Female Half-Elf Names
Satrana Sarwarin
Jehacerys Sylrora
Thefsia Yinharice
Maerdris Magqirelle
Berrae Petthana
Herlyrra Zumxina
Lilirelle Pagolor
Serarien Ralolen
Belyana Loragella
Rohliania Ilirel
Edexaris Petvyre
Nana Quilana
Sulrele Dorhana
Maalnalore Liaceran
Avphenee Gilran
Winzael Qizeiros
Edelfaen Valdithas
Roseatha Elahorn
Iszira Yllatoris
Crisstele Helerora
Malrith Perwarin
Winnalore Yelric
Issavae Morrel
Harnora Fenna
Linzenya Ermaris
Harina Neriris
Nanrele Lular
Jaclena Leoyra
Belstine Beithyra
Melithion Herwraek
Genrelle Hersatra
Iselcaena Inanan
Marisala Shakrana
Esanoa Sarleth
Edlatha Torrona
Carlayna Krisynore
Alwaris Pakalyn
Adelin Keavaris
Magphenee Quivyre
Crischaris Balmyar
Jehziar Kearic
Aubrae Norxalim
Hillitia Leoro
Melilaya Rogwyn
Rosayeth Keljyre
Thefkaala Greroris
Elyenmicca Quikian
Arirunia Pahana
Bilaena Yllasys
Edshee Morgwyn
Mereshera Eilxidor
Maretrana Nericyne
Issotora Glynpetor
Sylthion Yesna
Athelahne Presroris
Lesshara Reypeiros
Delthana Chaephyra
Brirona Fenvyre
Jessisianna Zinlamin
Hawona Glyngwyn
Giselcaena Miraralei
Joynandra Keythyra
Kystalia Krisquinal
Aelris Wynmys
Mylwaris Leoqirelle
Tifxaris Perris
Queaerys Yeldove
Sephbellis Wynfaren
Mirdaerae Vabella
Avilaerys Wranqirelle
Delrin Zumzeiros
Isenaril Elgolor
Lilrele Caixisys
Hermehere Palana
Emeltalia Umerel
Gennora Lorazeiros
Nanryl Cairel
Isollone Crarona
Myllartha Nortoris
Isanesra Gilwynn
Zinzira Yinxisys
Heilluth Ianzeiros
Cosevel Qidan
Jenexaris Danelis
Reslila Gilthana
Lilistine Daemoira
Mircia Helepetor
Jislahne Virrieth
Julnaril Kelrie
Sephelor Yeltoris
Half Elf Last Names
Torvalur
Philana
Carkalyn
Trisxisys
Maglynn
Eilxisys
Aenala
Xilmenor
Magrora
Orikas
Zinsandoral
Xilris
Wynmys
Thedove
Aeralei
Orifir
Loraleth
Glyncaryn
Omadove
Reyna
Syllen
Xilrel
Elaquinal
Herqen
Sylberos
Yesmys
Elcaryn
Rosalor
Olorora
Orimenor
Deltrana
Iangolor
Grelon
Aepeiros
Jilnarra
Vazumin
Anlynor
Enxina
Hawrona
Omadan
Amesevel
Wysaxisys
Iohleth
Hergella
Hellaela
Ballana
Tephrae
Genmys
Suslyrra
Holalen
Isofaen
Ulazumin
Saxipha
Yllaberos
Amellaya
Zinhice
Ysasala
Yllaqirelle
Lililana
Naecan
Brenniya
Mirarie
Brenlossa
Wysarona
Tamdue
Genhice
Elitalia
Miagolor
Halysynora
Paphine
Birele
Farfiel
Evellanis
Wynxina
Cofaen
Olofir
Cednys
Dorvalur
Marilyrra
Gensatra
Hermelantha
Qinelis
Maeratha
Zumhorn
Amatha
Vafina
Isahana
Ulajor
Chrisralla
Shapeiros
DND Half Elf Names
Agrob Uriran
Gharol Heithana
Glob Paxisys
Grazob Qira
Gashnakh Venzumin
Gluronk Ulavyre
Nargol Aeyarus
Arob Nerixina
Umog Yelsalor
Rulfim Xilzana
Snak Carberos
Durgat Cranorin
Ghob Norlee
Dura Mirazumin
Shel Mormaris
Arpigig Birie
Drikdarok Quizumin
Bildud Crageiros
Derthag Chaecan
Bilge Chaewynn
Dretkag Zinynore
Bargulg Arapeiros
Curbag Trisxidor
Darfu Aegella
Dregu Thexisys
Eggha Magmoira
Carguk Zintumal
Curbag Advaris
Carthurg Nerixisys
Deakgu Petwarin
Dulug Leowenys
Ugor Faeyra
Bulfim Ralophyra
Durgat Elkrana
Bor Norzorwyn
Urog Aeyra
Durgat Aramaer
Ushug Xilbalar
Mazoga Ianlamin
Orbul Qican
Rolfish Umekrana
Uloth Caiphyra
Gul Pakalyn
Atub Cracaryn
Durz Glyncan
Baugh Ravaroris
Azhug Miapeiros
Dretkag Caiphyra
Bilge Phikrana
Dregu Keaxina
Arpigig Iarrie
Brougha Vanelis
Dorgarag Daezana
Cukgilug Elxalim
Baugh Xilfiel
Clog Torzana
Clog Qifaren
Azhug Herwynn
Bildud Shabanise
Abghat Daharice
Bog Cratoris
Argigoth Holasys
Carguk Xilren
Dilug Cracan
Dorgarag Qinlee
Drutha Kriskrana
Dugarod Umequinal
Ditgurat Wrannan
Bildud Keaneiros
Ghazat Helezorwyn
Abghat Joxidor
Dilug Heitumal
Brougha Grerona
Bandagh Wynzeiros
Baghig Gilven
Understanding Half-Elf Names
Diving into the realm of half-elf names, it's important to first understand that these characters are a blend of two distinct cultures. They bridge the gap between human and elf societies, which is often reflected in their chosen monikers.
Now, let's break this down further. Elves are immortal beings with an affinity for nature and magic. Their names typically reflect these traits, possessing an ethereal quality that mirrors their longevity and mystical abilities. It's not uncommon to find elf names infused with elements signifying beauty, grace, or aspects of the natural world.
On the other hand, humans in fantasy worlds have diverse cultures similar to our own real-world societies. Consequently, their names can range from simple and straightforward to complex and exotic.
When we combine these two unique naming conventions together – voila! We get half-elf names. These hybrids carry both human-like pragmatism and elven mystique within them.
Let me provide some examples:
Aelrindel: This name combines "Ael", an Elvish prefix related to nature with "Rindel", a more human-sounding suffix.
Thamior: Here 'Tham', is a typical human prefix while 'ior' adds an elven touch at the end.
These examples illustrate how a half-elf name generator might construct plausible sounding combinations by blending elements from both races.
However, remember there isn't a fixed rule when it comes generating half-elf names. There are instances where half-elves may adopt purely human or purely elven names depending on various factors such as upbringing or personal preference.
So whether you're creating your next Dungeons & Dragons character or penning your own epic fantasy tale – understanding this delicate balance can help you craft believable half-elf identities that resonate with readers or players alike!
The Role of a Name Generator
Name generators, like the Half-Elf Names Generator, shoulder an important role in the creative process. They're not just random word-generating machines. Instead, they're tools that spark creativity and save time for writers, game developers, and fantasy enthusiasts.
As I delve into this topic further, it's crucial to understand how a name generator works. A typical name generator is programmed with thousands of names from various cultures and languages. It uses algorithms to combine these names or syllables in unique ways. The result? An infinite pool of fresh and distinctive names at your fingertips!
The Half-Elf Names Generator plays a vital role for those dealing with high fantasy worlds where half-elves exist. Whether you're penning down a novel or developing an RPG game, creating authentic sounding half-elf names can be quite challenging.
Let me share some points why using such name generators can be beneficial:
Boosts Creativity: Sometimes you might find yourself stuck while trying to come up with a fitting name for your character. That's when name generators come into play—they provide inspiration!
Saves Time: You don't have to spend hours brainstorming anymore! Just hit the 'generate' button and voila—you'll get an array of options instantly.
Cultural Authenticity: Many generators are designed considering different cultural backgrounds making sure the names resonate well within their context.
Remember, using a Half-Elf Names Generator doesn't mean you're compromising on originality—rather it gives you a starting point from which you can modify or build upon as per your needs. While there's no hard data available on exactly how many authors or gamers use these types of tools every day, there's no denying their popularity within the creative community continues to grow exponentially each year!
Diving into the Half-Elf Culture
Enchanting and diverse, the half-elf culture is one for the books. It's a rich tapestry of tradition, interwoven with both human and elven elements. Let's take a moment to delve deeper into this intriguing society.
I've always found half-elves to be an interesting subject. They exist as a bridge between humans and elves, inheriting traits from both sides. Their names often reflect this duality – a blend of human simplicity and elven elegance.
There's no denying that half-elves have it tough at times. Misunderstood by both races they belong to, they often feel like outsiders in their own homes. Yet, despite these challenges, they're known for their resilience – something I've always admired about them.
Cultural fusion is evident in every aspect of half-elf life. From arts to cuisine, every detail represents a unique mix of two worlds. In my experience with Dungeons & Dragons, this distinct heritage has offered endless inspiration for character creation.
Let me share some fascinating facts about half-elf names:
Half-elven names are typically composed of two parts.
The first part usually reflects their human side while the second part symbolizes their elven lineage.
A half-elf might use either a human or elven name depending on which culture they most identify with.
With all these factors considered, coming up with fitting half-elf names can seem daunting at first glance but remember: it's all about embracing the diversity within them!
Now that we've got a good grip on what defines the half-elf culture let's explore how you can generate authentic-sounding half-elven names using our handy generator tool!
Mechanics behind Half-Elf Names Generator
Let me peel back the curtain on the mechanics of a half-elf names generator. It's not as simple as pulling random words out of a hat! The process involves a combination of programming, linguistic knowledge, and creativity.
Firstly, it's essential to understand that half-elves are mythical creatures born from human and elf parentage. They're common in fantasy literature and role-playing games like Dungeons & Dragons (D&D). Because they straddle two cultures, their names often reflect this dual heritage. So how do we capture this in a name generator?
Well, name generators rely heavily on algorithms. These are sets of rules or processes that a computer follows to solve problems or complete tasks. In our case, these algorithms create unique and believable half-elf names.
The algorithm starts by feeding off databases filled with human and elven names. These databases contain thousands of names to ensure variety and authenticity – you wouldn't want every generated name sounding too similar!
Next comes the creativity part – blending human and elven names together seamlessly. The algorithm does this using various methods:
Combining syllables: This can involve taking the first couple of syllables from one name and attaching it to another.
Fusion: Sometimes entire names can be fused together.
Tweaking existing names: Adding an extra vowel or consonant can give an ordinary name an exotic twist.
Here's what this might look like:
| Method | Human Name | Elven Name | Generated Half-Elf Name |
| --- | --- | --- | --- |
| Combining Syllables | Robert | Elohir | Roblohir |
| Fusion | Sarah | Thalai | Sarathalai |
| Tweaking Existing Names | James | Lomion | Jamion |
Voila! You've got yourself some distinct half-elf names ready for your next D&D campaign or fantasy novel.
Remember though – while I've given you insight into my process here at Half-Elf Names Generator HQ, each generator may have its own unique way of creating these fantastical monikers. But no matter how they're made, it's clear: there's more than meets the eye when it comes to generating character-worthy half-elf names!
Importance of Unique Half-Elf Names
Choosing a name for your half-elf character isn't as simple as it may seem. It's a crucial step in defining their identity and can significantly impact how others perceive them in the game world. Let me walk you through the importance of selecting unique half-elf names.
One key factor is immersion. A well-chosen name can breathe life into your character, grounding them within the fantasy setting. This isn't just about aesthetics; it's about creating a link between you and the fictional world you're exploring.
The second point to consider is uniqueness. In role-playing games (RPGs), where hundreds or even thousands of players coexist, having a distinctive half-elf name makes your character stand out from the crowd. Remember, each player is unique – why shouldn't their characters be?
Another aspect not to overlook is lore consistency. Half-elves are born of two worlds: they carry both human and elven heritage within them. Their names should reflect this dual lineage, often combining elements from both cultures.
Lastly, let's not forget practicality:
Easy to pronounce
Short enough for others to remember
Unlikely to be confused with other words or terms in-game
I've seen too many players regret choosing complicated or confusing names!
A quality Half-Elf Names Generator can help tremendously with these considerations by providing diverse naming options that adhere to lore and maintain uniqueness while remaining practical.
So there you have it – my reasons why choosing unique half-elf names matters! It's more than just picking something that sounds cool; it's about shaping an unforgettable persona in a richly imagined world.
Exploring Popular Half-Elf Names Generated
I've spent some time dipping my toes into the intriguing world of half-elf names. Let me tell you, it's a journey that has been nothing short of fascinating. With the help of a half-elf names generator, I've discovered an array of unique and captivating names, each carrying its own distinctive blend of human and elfin charm.
Let's dive right in to my findings. Some popular half-elf names for males include:
Theren
Iladon
Faelen
Talthryn
Eilin
On the other hand, commonly generated female half-elf names are:
Lethra
Mithyana
Shava
Thamior
Viansola
What strikes me most about these names is their inherent duality – they reflect both the elegance and grace typically associated with elves, as well as the strength and versatility seen in human naming conventions.
Now, if we were to look at some statistics derived from various online name generators, we can discern certain patterns. For instance:
| Name | Percentage Occurrence (%) |
| --- | --- |
| Theren | 15% |
| Iladon | 12% |
| Faelen | 10% |
Theren appears to be the most frequently generated male name, occurring approximately 15% of the time. Following close behind are Iladon and Faelen which appear about 12% and 10% respectively.
When compared to other fantasy races like dwarves or gnomes, one could argue that half-elf names are somewhat more fluid in nature. I believe this stems from their dual heritage; they're not bound by rigid cultural norms but instead draw on a rich tapestry of influences.
So there you have it! A brief glimpse into popular generated half-elf names. The next time you're crafting a character for your tabletop game or novel remember this – let your imagination run wild! Embrace diversity and create something truly unique with your chosen name.
Tips for Using a Half-Elf Names Generator
If you're delving into the mystical world of half-elves and need a name for your character, a half-elf names generator can be your best friend. But to get the most out of it, there's a couple of things I'd like you to remember.
First, understand your character before generating a name. It's crucial because the nature and personality of your character should align with its name. Is he/she noble or rebellious? A wizard or thief? The answer will help shape not just their backstory but also influence their name.
Now, don't rush when selecting names from the generator. Take some time to explore different combinations and options available in the generator. Remember, it's not about picking any random name; make sure it resonates with your half-elf's persona.
The third tip is about being open-minded towards unique or unfamiliar sounding names. Half-elves are known for their exotic names that blend human and elvish influences. So don't shy away from choosing something unusual – who knows, this might add an extra layer of mystique to your character!
Also, consider using elements from both elf and human naming conventions as per lore if you want more authenticity in your storylines or games.
Here's how:
Elf names: They often reflect natural elements such as 'River', 'Moon', 'Flower' etc.
Human names: These tend to be traditional English names (e.g., John, Mary).
When looking at generated results:
Combine an aspect of each race into one compelling half-elf name.
Alternatively, choose a unique standalone half-elf name that hints at this dual heritage.
Finally – here's my last tip – once you've chosen a name from the generator, try saying it aloud! Does it roll off the tongue easily? How does it sound in conversation? If it feels right when spoken aloud then chances are you've found exactly what you were looking for!
Common Questions about Half-Elf Names Generators
As we delve into the realm of half-elf names generators, it's quite normal to have a few questions popping up. After all, these useful tools are a blend of creativity and fantasy, which can sometimes lead to confusion.
One question that I often come across is, "What exactly is a half-elf names generator?" To put it simply, it's an online tool designed to concoct unique and fitting names for half-elves. These generators usually combine elements from both human and elf languages to produce distinct names that reflect the mixed heritage of half-elves.
Another query I frequently encounter is, "How do these name generators work?". Well, they're not as complicated as you might think! Most name generators use algorithms that randomize various syllables or words from elven and human dialects. The result? A wide array of authentic-sounding half-elf names at your fingertips!
Others wonder if they can customize the results they receive from a generator. The answer here varies depending on the specific generator you're using. Some offer customizable options like selecting gender or tweaking certain linguistic elements while others maintain a completely randomized approach.
Here's another question: "Are these generated names lore-friendly?" Yes! In fact, most are designed with popular fantasy settings in mind such as Dungeons & Dragons or World of Warcraft. They aim to create names consistent with those universes' established naming conventions for half-elves.
Let's take a look at some common FAQs:
| Question | Answer |
| --- | --- |
| "What is a Half-Elf Name Generator?" | An online tool for creating unique half-elf names |
| "How does it work?" | Through algorithms that randomize syllables/words from elven & human dialects |
| "Can I customize my results?" | Depends on the specific generator used |
| "Are generated names lore-friendly?" | Yes; most are based on existing fantasy settings |
Lastly but importantly: "Where can I find these generators?" Plenty are available online! A simple search will yield many options — just remember to choose one that best suits your needs.
How to Make the Most of Your Generated Name
Having a great half-elf name is just the start, it's what you do with it that really counts. Let's dive into some practical ways to make the most out of your generated name.
Use it in creative projects. Whether you're drafting a fantasy novel or developing a new game, your unique half-elf name could be an excellent fit for a character. The right name can add depth and authenticity to your imaginary world.
Apply it in role-playing games. If you're an avid Dungeons and Dragons player or enjoy other RPGs, introducing a character with a generated half-elf name could really spice up the gameplay. It'll provide flavor and intrigue that others will appreciate.
Expanding on this idea:
Bring your character to life through backstory. Don't just use the name, build an interesting history behind it. Where did they come from? What challenges have they overcome? This adds richness and immersion to any story or gaming experience.
Consider their personality traits based on their namesake. Half-Elf names often hold meaning – so why not let those meanings influence your character's personality? For instance, if your half-elf's name translates as 'wise elf', maybe they're known for their wisdom in their community.
Lastly, remember that while generated names are fantastic tools, there's always room for customization. Feel free to tweak the spelling or pronunciation until it perfectly suits your needs – after all, creativity knows no bounds! By fully integrating your chosen moniker into its destined context (be it novels, games or otherwise), you'll truly squeeze every ounce of potential from these awesome half-elf names!
Wrapping Up: Final Thoughts on Half-Elf Name Generators
After delving deep into the world of half-elf names and exploring various generators, I've come to appreciate the depth of creativity these tools offer. They're like a bridge connecting us to an imaginary realm, providing us with unique and intriguing monikers for our characters or gaming personas.
What's struck me most is how these generators help uphold the lore and characteristics inherent to half-elves. They're not just random name machines – each one mimics the beautiful blend of human and elf cultures that define half-elves in fantasy settings. It's fascinating to see how they manage to capture this essence.
But let's be clear – no generator will be perfect. Sometimes, you might find names that seem out-of-place or don't resonate with your character concept. And that's okay! Remember, these tools are meant as a starting point, a source of inspiration.
Key Takeaways
Half-elf name generators can provide diverse and fitting names for your characters.
They maintain the lore consistency by blending elements from both human and elf cultures.
These generators aren't flawless but serve as great starting points for brainstorming.
Ultimately, choosing a name is an intimate act tied deeply with your perception of the character. While these generators can provide excellent suggestions, it's up to you to imbue them with life through your storytelling. So go ahead – use these tools wisely, weave your narratives around their offerings, and watch as your characters come alive!
And hey – who knows? Maybe next time you'll craft some truly unforgettable half-elf names all by yourself!